Right now, get a free Mag Wheel Upgrade ($349 value) with purchase of the 55" tool cabinet model CRX552512RC.
This tool box measures 54 5/8"W x 25"D x 46"H. Includes a new, durable 1/2" thick work surface. With innovative expanded width drawer design, this toolbox features 3 extra long full width drawers. It also features self latching quick release drawer pulls which are sold aluminum and full width. With a load capacity of 150-300* lbs. rating per drawer (double slides drawers hold 300 lbs). Drawers use full-extension ball bearing glides. This tool box has reinforced scratch resistance using a high-gloss powder coat finish. Includes rubber drawer liners for added durability.

Mag wheel upgrade is valuded at $349. Includes set of 6 2 rigid and 4 swivel / locking wheels, all with grease fittings. Solid one piece wheels.
Steve in Somerville, MA, purchased this tool box and left a nice review about the box and his buying experience:
"I'm not one to write reviews but my experience at NHProEquip was exceptional. I cannot recommend Clark and his company enough. I wanted a professional-grade rolling tool box and began an extensive search online for the best value available. Not only are Clark's prices the lowest around, but the service was extraordinary. I called him, got valuable advice, and easily placed my order. I live in a densely populated urban area with narrow access to my garage, so I knew delivery was going to have its challenges. Without even being prompted, Clark took the initiative to figure out the best solution to ensure a seamless delivery process (including considerable investment of his own time to make it happen).

You can go to a nameless eCommerce storefront and pay the exact same price with uncertain service, or you can call Clark and make sure the job is done right. I seldom have such a positive customer experience...anywhere. And of course the tool box is incredible. Thanks Clark!"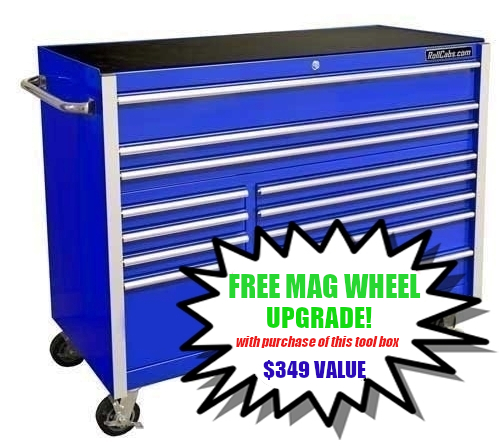 More about our CRX Series Tool Boxes
Our complete toolbox product line is made by Extreme Tools.
Extreme's RX series toolboxes have been upgraded to our CRX series.
CRX Upgrades include:
Part number (Extreme's "RX" Series) change to CRX to designate the following upgrades:
All boxes with the CRX prefix are labeled RollCabs.com and follow the same warranty as Extreme Tools products.
The CRX series (improved features) comes in 55" and 72" sizes with the Rollcabs.com label include heavy duty 150 pound ball bearing drawer glides.
On all CRX series drawers 4" high or more, where two ball bearing glides are used, the load capacity is 300 pounds.
CRX series use rubber drawer liners in place of foam drawer liners
CRX series roll cabinets include new, thick protective work panel in place of foam pad.
All CRX toolboxes are not only reduced in price but have added benefits compared to the RX Series Extreme Tools' tool boxes!