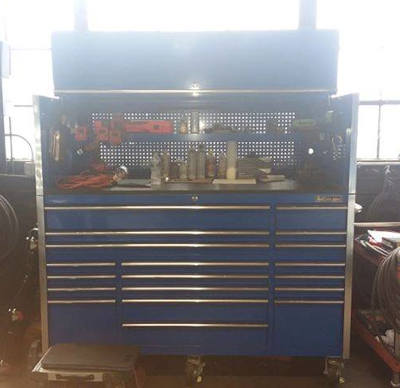 Troy in Scranton PA submitted this pic yeterday of his 72" x 30" Rolling Tool Cabinet + 72" Top Hutch (rollcabs.com by Extreme Tools brand, model #CRX72301901SET). He says,"Here's my box I bought off of you in November and I love it so far. It's almost time for a side cabinet and more drawers though. I work at a Mack and Hino dealership in Pennsylvania and the box does it's job with no complaints what so ever."
If you are looking for space for deep sockets, socket trays, or power tools, this box is for you. The top drawer is 51" wide x 5.8" high. Deep enough that you won't have to deal with drawer jams! For pry bar storage, screwdrivers and extensions, the two drawers below it are also 51" wide x 2.8 " high - and able to be locked up to keep these tools securely in place!
With full-extension capabilities on all drawers, mechanics can easily find all their tools with total visibility. And all wide drawers have reinforcing support panels spot welded under the drawer, which support heavy loads and keeps the inside of the drawer open for full storage use.